Twelve former child internees, as well as families and friends, commemorated the 75th anniversary of German-American prisoner exchange during World War II, hosted by St. Mary's University in New York and New Jersey on Thursday, Feb. 14, and Friday, Feb. 15, 2019. Three other former internees were represented by their children. All internees were given yellow pinwheels, a symbol of the childhood many were denied. The events were a culmination of a "Year of Remembrance," with numerous, student-led gatherings, micro-documentaries, museum exhibits, an interactive internment map, posters, and internet postings. Students hope to convince Congress to federally acknowledge German-American and Latin American internment.
75 years ago, the M.S. Gripsholm sailed from the New York harbor with 1,117 civilians of German descent, including children. Most had been interned in Texas; most were from Latin America; several were from New York. Many of the M.S. Gripsholm's passengers suffered bombardment and deprivation upon arrival in Germany. Liberated in exchange were Jews from the Vittel camp, US diplomats (notably Gen. MacArthur's nephew), and wounded American POWs.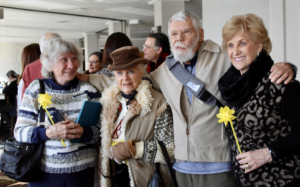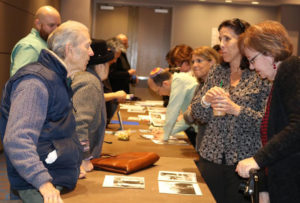 On February 14 a pop-up exhibit of rare memorabilia, as well as a question and answer session with former internees was held at Manhattan College in the Bronx from 1:30-3:00.
February 15 events began with a visit to Ellis Island between 9-11:00 A.M., where many former internees were held prior to being sent to Germany. Ellis Island's chief archivist has championed the history of internment and is keen to record testimonies and publicize this history, according to Professor Teresa Van Hoy, who lead the student projects. A memorable "internment tour" of Ellis Island followed and Art Jacobs, a former internee, joined the group by telephone to describe that history. Students believe they've found the perfect place for Ellis Island to acknowledge this history and post a photo, so they plan to make a formal proposal.
Between 3:00-5:00 P.M., mini-workshops recorded testimonies, designed historical markers, and built a model of the M.S. Gripsholm, as well as other activities. Students from Manhattan College, St. Mary's University, and University of Texas, San Antonio, participated, as well as members of the public and former internees and their families and friends. The last surviving State Department official in charge of the 1944 exchange voyage, now 99, spoke to each of the former internees. She is now 99 and she remembered that day.
From 5:00-6:00 P.M. on Pier F, the names of exchanged internees were read, and at 6:00 P.M., exactly seventy-five years to the minute since their exchange, the former internees cast yellow roses into the water in memory of their shared experience.  (Gripsholm and Drottningholm exchange voyages history)
These events brought together diverse communities championing recognition of German American internment—including strong statements of support and invitations to share our stories from the Japanese American community, US Holocaust Memorial Museum, colleges in New York, African American high school, German American National Museum of Washington, Quakers in Philadelphia, Crystal City's new liaison for internment history, latino students from the borderlands in Texas, the Immigration Museum in New York that featured internees all week, and the Texas State History Museum that just launched its year-long exhibit.
Efforts are now underway by Ana Morse, daughter of Karin Peters, who was born in the Crystal City, TX internment camp, and student leader Nicole Johnson to craft a plan for a heritage tourism center at Crystal City, to keep WWII internment history alive there.
For more about St. Mary's University, San Antonio, TX "Year of Remembrance," see their Facebook page.