April 28, 2007
Successful San Mateo Enemy Alien Conference and Drama Night
"I intend to take the teachers syllabus and promote its contents."
"Extend the Conference to other cities, to educate ALL."
"The program told a story that hasn't been told. Excellent. Very interesting."
"I have always felt that the media's coverage of the plight of the 'forgotten internees' was a sad commentary on modern reporting."
These are a few of the many positive and enthusiastic comments from audience evaluations of the Enemy Alien Conference and "Freedom Lost: Three One-Act Plays" held in San Mateo, California on April 28, 2007. Around 225 people packed the conference room at the San Mateo City Library to hear six scholars and historians present various aspects of the Alien Enemy Control Program (AECP) in World War II, as well as point out parallels to today's treatment of presumed enemies. Among attendees were former internees and their families.
The one-act plays that evening, featuring nine professional actors from the Bay Area theater community, also played to a standing-room-only audience of nearly 300 people. Both the Conference and the plays were widely featured in the media, including KCBS, KQED, the San Jose Mercury News, and the Alameda News Group.
The events were designed to mark the opening of the Enemy Alien Files exhibit in the San Francisco Peninsula, as well as introduce the "Alien Enemy Control Program Curriculum Guide and Lesson Plans" to a wider audience. The lesson plans include the scripts for three one-act Reader's Theater dramatic productions, written by John Christgau, and featuring student-aged subjects of the AECP from the German, Italian, and Japanese communities. Both Lesson Plans and plays are suitable for students at the secondary or college/university level. All are available free on-line at this site, www.gaic.info, or by mail order through the National Japanese American Historical Society in San Francisco and in the Midwest through the TRACES Center for History and Culture in St. Paul, Minnesota.
Scholars and historians presenting the program at the Conference included:
John Christgau, author of "Enemies: World War II Alien Internment" and project director for the California Civil Liberties Public Education Project grant that supported both the April 28 events and the curriculum package development
Steven Fox, author of "Fear Itself: Inside the FBI roundup of German Americans during World War II: The Past as Prologue" and "The Unknown Internment: An Oral History of the Relocation of Italian-Americans during World War II" (republished as "Uncivil Liberties")
Larry DiStasi, project director of the traveling exhibit Una Storia Segreta: When Italian American Were "Enemy Aliens" and author of "Una Storia Segreta: The Secret History of Italian American Evacuation and Internment during World War II"
Grace Shimizu, JD, founder and Project Director of the Japanese Peruvian Oral History Project (JPOHP) and a founding member of the Campaign for Justice: Redress NOW for Japanese Latin Americans
Isao Fujimoto, PhD, Emeritus Professor of Community Development and Asian American Studies at the University of California, Davis
Jay Feldman, author of "When the Mississippi Ran Backwards: Empire, Intrigue, Murder, and the New Madrid Earthquake," who is currently working on the first comprehensive book about the World War II Alien Enemy Control Program
Karen Ebel, JD, cofounder of the German American Internee Coalition and leader of efforts to have Congress enact the Wartime Treatment Study Act, which would evaluate the treatment of resident aliens of European ethnicity by the AECP and U.S. response to Jews seeking asylum during WWII
Planners of these successful events in San Mateo look forward to future programs. Karen Ebel, Grace Shimizu, and John Christgau have agreed to participate in the Oral History Association's conference on "Diversity, Civil Liberties, and Social Justice" in Denver in July 2008. Christgau and Shimizu will also appear at the Association's conference in Oakland in October 2007. Both conferences will provide an opportunity for continued distribution of enemy alien curriculum material.
The one-act scripts, with no copyright or royalty restrictions for educational institutions, are part of the on-line instructional material, along with seventeen lesson plans regarding the AECP. To access the curriculum materials, click here. Plans are already in place for a student production of all three one-act plays at Skyline College on the San Francisco Peninsula in the spring of 2008. The National Japanese American Historical Society is planning a production of THE MASTER TAILOR'S WIFE in 2007-2008. Elsewhere, three Bay Area theater companies have been contacted with respect to their interest in the plays.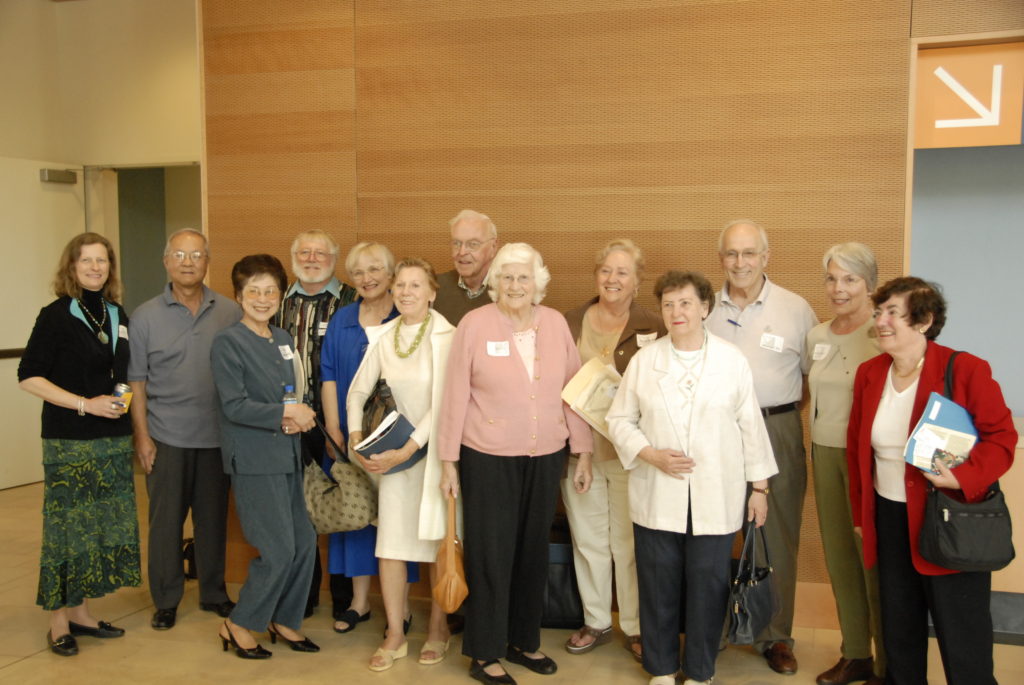 Former internees or their children (from left) Karen Ebel, Art Shibayama, Libia Yamamoto, Lothar Eiserloh, Ursula Vogt Potter, Ingrid Eiserloh, Herb Sauer, Sylvi Knöhr Wyatt, Doris Berg Nye, Vilma Schneider Ralston, Eberhard Fuhr, Heidi Gurcke Donald, Constanza Ilacqua Foran (not shown-Brad Houser)
Cosponsors of the day's events include the California Civil Liberties Public Education Project, Enemy Alien Files Consortium, San Mateo Public Library, National Japanese American Historical Society, Japanese Peruvian Oral History Project, German American Internee Coalition, San Mateo and Watsonville-Santa Cruz Chapters-Japanese American Citizens League, Peninsula Italian American Social Club, Steuben Society of America, North Peninsula Chapter of the ACLU, American Italian Historical Association—Western Regional Chapter, Los Altos Voices for Peace, Radio Goethe, William Sinclair Trust, German World Alliance, San Mateo County Times, Tricentennial Foundation, European American Issues Forum, German American Business Association, Campaign for Justice, California Ethnic Leadership Council, TRACES Center for History and Culture, German American National Congress, ("DANK"), American Muslim Voice and San Mateo Adult Community Education. Complete funding for the project was provided by the California Civil Liberties Public Education Project.