Our good friend and fellow GAIC board member, John Christgau, passed away unexpectedly on August 21, 2018 in Belmont, California.
We first connected with John through his book, ENEMIES: WORLD WAR II ALIEN INTERNMENT, one of the first definitive books about the internment of German, Japanese and Italian immigrants during the World War II years. Those immigrants, deemed alien enemies during World War II, were interned in camps which were established around the U.S. The focus of ENEMIES was Ft. Lincoln in Bismarck, ND, where thousands of "alien enemies" were interned, including the fathers of two of our board members, Ursula Potter and Karen Ebel.
Social justice was one of John's lodestars. Once he learned of the U.S. government's alien enemy laws, the plenary internment power afforded the government under those laws and the traumatic effect those laws had on legal residents of the U.S. and Latin America, he committed himself to educating the public about those laws and their broad application.
John soon became a leader in many activities trying to educate the public about alien enemy internment. He wrote plays available for public use, participated in national conferences, worked to create traveling exhibits and helped found the GAIC in 2005, always lending his considerable expertise and wisdom to promotion of the GAIC's goals. One of the highlights of John's alien enemy journey was testifying before Congress with Heidi Donald and Karen Ebel, in support of a study commission on the World War II alien enemy internment policy, a policy whose basic tenets continue to underlie many of the challenges immigrants face today.
John spent his formative years in Minnesota, served in the intelligence service in the U.S. Army, and then moved to California for his higher education and career. Over three decades, John was a beloved and superb high school journalism and English instructor and basketball coach, as attested to by the many students whose lives he impacted and inspired. He was also an award winning author. Throughout his adult life he wrote nearly a dozen fiction and non-fiction books on a variety of subjects, as well as plays, short stories, articles, poems and, finally, a podcast.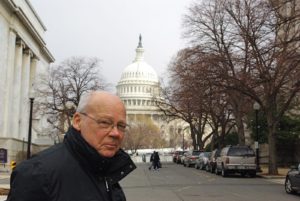 John was a highly intelligent, charismatic and caring person with whom we, and many others, loved to spend time. Some of our most delightful hours were spent working with him as he told entertaining stories, or, often humorously, gave his opinions on the subject at hand, digging deep into his vast knowledge and experience when working on projects for the GAIC.
Through thick and thin, his sense of humor and his verve for life remained intact. He was one of a kind and we miss him.
He leaves behind his wonderful family: his wife, Peggy, daughters, Jennifer Christgau Aquino and Sally Christgau, his son, Erick Christgau, and his grandchildren, Adeline and John Aquino, as well as numerous other family members and friends, including those of us in the GAIC family.
A campaign to raise funds for a John Christgau memorial at the Belmont, California, Library, is underway. Obituaries can be read  at the "Star Tribune," "The Mercury News" and "The Daily Journal."