During the early months of World War II, and after initial processing, many internees were sent to the prison in Stringtown, Oklahoma, which was operated by the US Army. The prison started accepting internees on March 30, 1942 and was located four miles north of Stringtown, on the west side of highway 69. The camp was previously a sub-prison, established in 1933, to relieve overcrowding at the Oklahoma State Penitentiary. Stringtown had a capacity of 500 and held primarily German internees, but some Italians and Japanese were also held there. (See map) The internees were divided into 3 companies with an officer, NCO and company clerk assigned to each company. The camp commander ran the camp pursuant to strict rules which provided that under some circumstances, such as attempted escape, internees were to be shot.
Although the environment at Stringtown was described as bleak, most internees made the best of it by keeping the living quarters (former inmate cells and added barracks), as clean as possible and engaging in meaningful hobbies. Also, internees were responsible for preparing their own food. Guards and administrators reported that the meals for the internees were much better tasting than the food they received.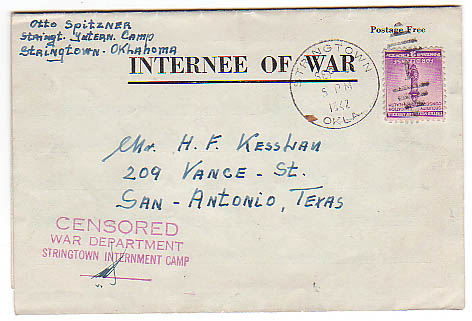 There was a small, vocal Nazi element at Stringtown, estimated to be less than 3% of the general population. This element had an unsettling effect on the atmosphere of the camp, especially for the few German Jews who were interned there. Two German internees died at the camp and are buried at Ft. Reno.
The "permanent" status of Stringtown turned out to be short lived because it was closed in June of 1943. By then most Stringtown internees had been transferred to camps run by U.S. Border Patrol personnel under the jurisdiction of the Department of Justice. For the remainder of World War II, Stringtown housed German POWs. The site now contains the Mack Alford Correctional Center, a medium security prison.